A skin without imperfections and without blemishes … for many it is a mirage! There are many small problems that afflict the face and sometimes they depend on age: this is the case of adolescent pimples, dark spots in pregnancy and wrinkles after 35 years. In short, every skin has its imperfections. We try to tidy up and get to know some skin problems in depth in order to prevent and treat them, starting with pimples, blackheads and acne.
What are the Most Common Skin Blemishes and Imperfections
Blemishes and imperfections are often linked to the type of skin we have, as well as caused by external or psychological factors.
Let's check what the skin looks like and then make good use of some tips to clean it thoroughly and make it more compact and luminous. Remember that every blemish has solutions!
We can divide the skin into three categories:
It is a good start to know your type, so that you can choose the most suitable products for the treatment of your skin imperfections. You can show your face to a professional, a pharmacist, a dermatologist or a beautician, to have your skin analyzed, but you can also find self-analysis tools online.
Oily skin is characterized by an excessive production of sebum, which causes a visible shiny appearance, especially in the T-zone of the face (forehead, nose, chin), with enlarged pores, blackheads, pimples  and, in the most serious cases,  cysts  and acne.
It can be caused by factors that change hormonal balance, such as age and stress, but in particular it is a problem that comes in puberty, a period in which both boys and girls increase sex hormones, including androgens. As a result of this increase, the sebaceous glands produce more sebum. Oily skin can also present itself in different stages of life, such as pregnancy and menopause, and before the period in women.
Smoking, pollution and climatic conditions are also triggers, because toxic substances cause an increase in the volume of the sebaceous glands.
Combination Skin - the T zone
This is perhaps the most common type of skin. It consists of both oily and dry skin in different areas of the face: the famous T-zone (forehead, nose, chin) will be more shiny, while others will be dry.
This skin must be treated with mildly aggressive cleansers and creams, which must deeply cleanse, but at the same time mattify and moisturize without greasing.
It has insufficient amounts of sebum. It is more common among women and is more common after menopause. Delicate, fragile, not very elastic , it needs to be deeply hydrated and not attacked.
The most frequent imperfections are wrinkles and stretch marks.
The main causes are due to external conditions and age: wind, cold or dry heat, air pollution, the use of water that is too calcareous or staying in overheated environments, the use of soaps and aggressive detergents external level. Hormones that decline after menopause can also make the skin fragile and dry, decreasing natural sebum production.
Looking at the skin closely you can see areas where small holes are visible, mainly on the forehead, nose and chin, but also on the sides of the nose and on the cheeks. They are the enlarged pores.
The pores are none other than the follicles of the sebaceous glands, present all over the body, which allow the evacuation of sweat and sebum produced to provide the right hydration to the skin and limit its drying.
When the follicle expands too much because it is stimulated to produce too much sebum, it can become clogged and the trapped material become inflamed, resulting in injury .
The action of the sun, smoke, pollution and hormones can increase the production of sebum which leads the pores to widen to allow their evacuation.
Without proper treatment, the enlarged pore can become clogged. This facilitates the proliferation of bacteria normally present in the body, in particular the bacteria Propionibacterium acnes , which cause inflammation.
In the meantime, to have a skin without imperfections, let's try to clarify the common pimples, blackheads and acne that cause us so much embarrassment, especially in adolescence.
Pimples: This is a usually mildly painful skin blemish that fills with pus. Pimples can appear all over the face, often on the chin and forehead, and can be under the skin.
Comedones: It is a clogged hair follicle. In healthy skin they develop and dissolve naturally, while in acne skin the dissolving process is accompanied by inflammatory reactions.
Closed comedones: The so-called white spots are protruding and rounded in shape, like a pimple, but with a white cover.
Blackheads: Also called open comedones, they are present on combination or oily skin: it is a small dark spot in the skin, the color of which is caused by the sebum which reacts to oxygen and darkens.
Acne: This is probably the most typical problem, common among adolescents, it is also present in adults. It occurs if the sebaceous glands are overactive and therefore produce too much sebum. The follicles become clogged, inflamed and cause pimples, cysts and nodules.
The Causes of Blemishes and Pimples
All doctors agree that acne is primarily a hormonal disorder, although some skins are more prone to impurities than others.
External factors such as use of certain medications, smoking and stress can trigger acne. We can therefore divide the causes of pimples and acne into two triggers:
internal factors therefore linked to the type of skin and hormonal changes

external factors that cause the increase in sebum production (smoking, diet, environmental conditions, stress, drugs)
What Age Do Pimples Come From?
It is proven that acne does not depend on age: it occurs where there is excess sebum.
In fact, there are many cases of acne in adulthood, especially between the ages of 30 and 40. Often they are young women who have not resolved adolescent acne, which therefore continues to manifest itself, or which occurs during the period due to hormonal spikes.
But there are also women over 25 who see the onset of acne. In this case, the influence of urban pollution, irregular lifestyle, smoking and stress can be decisive.
Skin Without Pimples: Better to Prevent!
It is proven that acne does not depend on age: it occurs where there is excess sebum.
In fact, there are many cases of acne in adulthood, especially between the ages of 30 and 40. Often they are young women who have not resolved adolescent acne, which therefore continues to manifest itself, or which occurs during the period due to hormonal spikes.
To reduce pimples and regenerate acne-prone skin, we suggest you make some changes to your lifestyle first. In particular, with regard to:
Diet: To have a healthy body and skin, they all agree in suggesting a balanced and varied diet trying to avoid fatty foods, sugars and alcohol.
Smoke: You are advised to quit smoking.
Stress and lifestyle: Trying to reduce stress and lead a healthy life, with the right amount of daily exercise, perhaps outdoors, helps the body stay healthy.
Hygiene: The skin should always be cleaned properly, especially after make-up. Use cleansers and products suitable for your skin type, tested and non-comedogenic. It is also advisable to use clean pillowcases and towels and change them regularly to reduce the concentration of bacteria that cause pimples. Keep your hands away from the pimple and also the cell phone, a receptacle for bacteria.
Sun: Exposing yourself to the sun is good for the health of hair, bones, but we must be careful and do it with caution: the epidermis must always be protected with SPF 15 cream or makeup even in winter.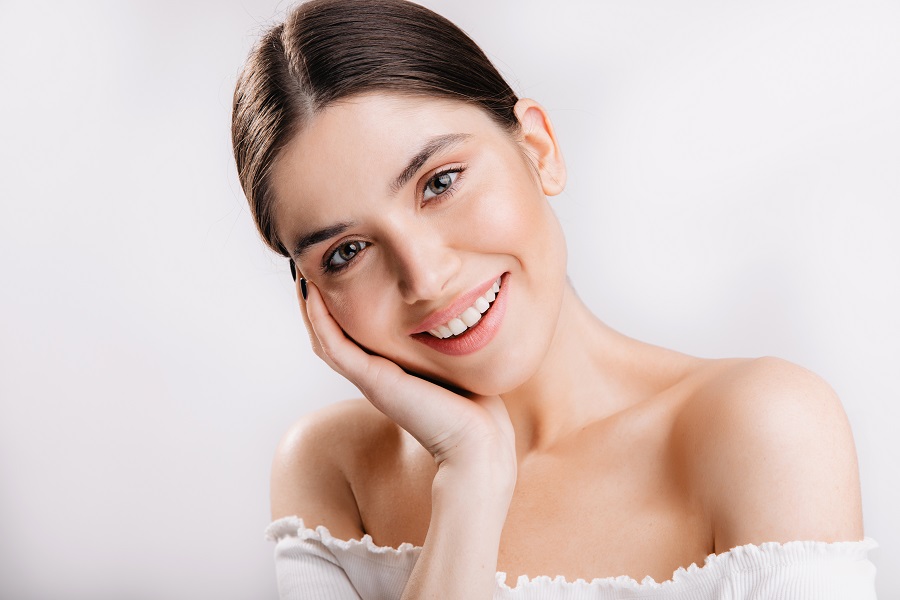 Treating Pimples from the Inside
To prevent the onset of pimples, you can also take food supplements: for example, brewer's yeast tablets , which contain B vitamins and have an antibacterial and purifying action.
Alternatively,  green tea has a purifying effect and has an antioxidant and anti-inflammatory action, helping to reduce the excessive production of hormones: a lukewarm infusion 3 times a day is recommended.
How to Improve Facial Skin with Natural Remedies
To have a skin without imperfections, already at the first symptoms of pimples and acne we can contact our trusted herbalist to find a do-it-yourself solution.
There are many natural remedies that are recognized as having some effectiveness in fighting pimples. We give you a list of the best known that can alleviate these skin blemishes
Clay:  A clay-based mask purifies the skin, eliminating toxins and bacteria. White clay enriches the skin with trace elements, such as silicon, magnesium, iron and calcium.
Baking soda: Mix 1 teaspoon of  baking soda  with 1 teaspoon of water and spread the mixture on the pimples, leaving it to act for about 20 minutes.
Honey: Honey is an antiseptic  , a real natural antibiotic.
Garlic: Raw is to be rubbed into the skin several times a day: garlic is an excellent natural antibiotic.
Coriander:  Apply the fresh  coriander leaves directly to the affected area in the evening after washing your face thoroughly. Excellent against the spots left by acne.
Potato:  Excellent natural purifier, it absorbs excess sebum and cleans the pores. Just rub a slice on the skin for a few minutes and then rinse thoroughly with warm water.
Aloe vera: This wonderful vegetable with many active ingredients, such as cinnamic acid , resistanol and aloin . it is rich in anti-inflammatory and astringent properties and is excellent for preventing the appearance of pimples. Apply aloe vera gel for 15 minutes twice a week.
Tea tree oil: The essential oil is extracted from the leaves of the tea tree alternifolia and applied in drops directly to the skin. It fights the bacteria that cause the onset of pimples and cleanses the skin deeply.
Lemon essential oil:  Natural exfoliant recommended to reduce acne marks. Lemon essential oil should be rubbed directly on oily skin to remove impurities.
Burdock: Thanks to its purifying and decongestant action, it helps eliminate toxins and regulates the production of sebum, thanks to inulin . Burdock is to be taken in capsule form because it is very bitter.
Nettle: It has anti-inflammatory properties that help fight acne. Rich in zinc, minerals, trace elements and vitamin B, nettle is a purifying plant and slows down the secretion of sebum. It can be consumed in capsules, infusions and soaked tablets applied to the skin.
Like having a Porcelain Skin
To have a porcelain skin it is important to follow a daily routine that is based on 3 mandatory steps:  moisturize, massage and cleanse .
It may seem obvious, but many people overlook these three simple gestures which will do great for all types.
Know that a good skin cleansing removes impurities. The right level of hydration based on each type of skin makes it smooth. A regular massage stimulates its micro-circulation, making it shine.
How to have Smooth and Radiant Facial Skin
Beautiful skin with invisible pores and a glowing complexion is everyone's dream. The protocol to follow includes some simple steps that must be followed consistently, and of course you need the right products. Let's see together.
Cleaning: It must be done at least once a day. The ideal would be two, morning and evening. Wash your face with a cleanser with purifying properties or a nourishing oil. The make-up removal phase is fundamental, which helps keep your skin clean.

Hydration: When it comes to skin care, hydration is essential. Both from the inside, drinking 1 liter of water a day, and from the outside, passing a veil of moisturizing cream. The choice of the moisturizing serum must be made according to the age and type of skin (combination, dry, oily).

Massage: Applying the cream with a gentle massage is very important to activate its principles. Even doing a  scrub once a week allows you to renew the most superficial layer, cleaning the dead cells that block the penetration of the moisturizing active ingredients. And then it prepares your skin to receive the various treatments.




Exfoliate means to tighten the pores, cleanse and purify the skin in depth. It is a ritual that renews the cells, awakens and reactivates the superficial micro-circulation. It is also an anti-aging solution that regenerates the skin and makes it more elastic and toned.
In general, it is important to choose tested and safe products and makeups, free of additives, non-comedogenic, which do not clog the pores, the first cause of acne.
How to have an even Complexion on the Face
Those with acne or impure-prone skin can try to cover the imperfections of the face by putting on make-up, but you must be careful in choosing products and performing make-up. Here are our tips for a covering make -up, but beautiful to look at, which does not suffocate oily skin and evens out the texture of the face and complexion .
To perform a matifying and long-lasting make- up, suitable for impure skin, but not too covering, it is advisable to respect these steps, to be performed with products chosen for our skin:
Cleanse the skin well and nourish it with a moisturizer.

With the covering stick, hide the darker parts or cover up imperfections. Dab gently with a tissue to mix the product and cover the impurity well.

Apply the foundation that must be opaque, of the right color for your complexion (better lighter, but never darker). Roll it out with your fingertips and check that your hands are clean: the sponges are full of germs. The amount of foundation should not be excessive to give a natural effect to the face.


For example, Dermablend 3D Correction by Normaderm is a foundation specially designed for oily skin, enriched with salicylic acid and heperulin , it acts on shiny skin visibly reducing imperfections and smoothing out the complexion.

Apply blush or a light face powder. These too must have an opaque effect to enhance the natural complexion without highlighting imperfections.
It is therefore possible to create a pleasant anti-shine makeup that at the same time acts on imperfections. The range of Vichy makeup products is able to cover lightly and synergistically exploit the properties of Vichy face treatments.
Perfect Skin Without Makeup and Without Foundation
After a day with your face made up, you should never miss an adequate cleansing. Especially if the skin is oily and impure. Dirt, bacteria and dead cells can clog pores and encourage new impurities.
Skin Without Blemishes with the Right Products
The products that can be purchased in pharmacies for the treatment of acne or impure skin in general, are many and are based on different active ingredients.
The choice of the product must respond to our actual needs and therefore it is necessary to become aware of what the triggering cause is. Certainly the dermatologist and pharmacist will be able to help you in this choice. Furthermore, it must be used regularly not just one application is enough.
Normaderm Impure Skin Cleanser Range
For deep cleansing of impure skin we recommend the Normaderm  range which offers a complete set of solutions for every need:
Phytosolution: Purifying cleansing gel. A facial cleanser that does not need to be rinsed and removes makeup in depth. Rich in minerals and probiotics. If used daily, it reduces the production of sebum without attacking the skin, which is smooth and deeply purified. Regular use reduces blemishes by 85% and excess sebum by 94%.
Phytosolution: Double action daily corrective treatment. Day cream for daily use. Ideal on acne-prone skin. Hydrates for 24 hours, regulates sebum and reduces the visibility of pores, protects from atmospheric agents.
Deep purifying cleansing gel for blemished or acne-prone skin: Eliminates excess sebum and fights impurities. The combination of ingredients with an exfoliating effect and a soothing agent cleanses the face from excess sebum and impurities, without drying. The face appears perfectly cleansed, fresh and clean. The gel consistency makes cleansing a quick and fresh gesture.
Purifying astringent tonic: Frees and tightens dilated pores, leaving the skin less oily and clean from the first application.
3 in 1 Exfoliator + Cleansing Cream + Mask: The advantage of a single 3-in-1 product. What is it for? Exfoliating action to open the pores, cleansing action to reduce excess sebum and impurities, and mask to brighten the complexion.
Matt effect cleansing mousse: Thanks to salicylic acid, it offers oily and sensitive skin a beneficial purifying and mattifying effect.
What are the Active Elements?
The active elements present in the Normaderm range:
Hyaluronic acid of natural origin: known to hydrate and tone the skin

Salicylic acid of natural origin: exfoliates and fights imperfections

Vichy mineralizing thermal water : strengthens the skin's natural defenses, regenerates and soothes

Bifidus derived from the probiotic: strengthens the function of the skin barrier

Kaolin : helps purify the skin

Glycerin : has moisturizing properties and is used to restore the hydrolipidic film.
What's your reaction?
0
Smile
0
Lol
0
Wow
0
Love
0
Sad
0
Angry