But do you all know exactly what a scrub is and what is it for ? And what's the difference with peeling ? If you have any doubts, we explain everything to you in this guide.
Scrub: what it is and what it is for
It is an exfoliating treatment of the skin thanks to the mechanical action of micro-granules or chemical or enzymatic active ingredients that have the ability to eliminate pores, remove dead skin cells and impurities from the surface of the epidermis.
Depending on the type, there are three different application techniques. To work, mechanical scrubbing requires a circular massage, while the chemical one is applied delicately like a film.
It is always a cream or gel product with an exfoliating action to be applied to damp skin, which is rinsed off and can be performed both on the face and on the body.
Mechanical scrubs are the most common and contain small abrasive elements. They are applied to moist skin and must be activated with circular motions strong enough to exfoliate, but gentle enough not to damage the epidermis.

Chemical scrubs , they do not contain abrasive particles that must be activated by a circular massage. It looks like a cream and causes a natural chemical reaction. These are specific enzymes that eliminate dead cells when they come into contact with the skin. Applied as a mask on the face, they act without intervention or friction.
it deeply cleans the skin , as it eliminates as much dirt, makeup and even smog residues as possible.

it eliminates the dead cells on a superficial level.

facilitates the renewal of the superficial skin layers.

prepares the skin for subsequent beauty treatments.

prepares the skin to absorb and assimilate more effectively the moisturizing, nourishing and restructuring principles of other cosmetic treatments, masks and beauty creams.

it facilitates a uniform tan , because by removing the superficial horny layer the tan will be more lasting and homogeneous.
The word comes from English and means 'to scrub' and in particular 'to scrub something hard to clean it, especially using a stiff brush, soap and water'.
Hence the name of a substance used to clean the skin and make it softer, especially if it is slightly rough, by rubbing it thoroughly.
Difference between scrub and peeling
If we undergo treatments at beauty centers, we can choose between different types of scrubs , but we must not confuse it with peeling .
In fact, there are deeper treatments, peelings,  which use the deep exfoliating action of chemical or natural compounds.
The chemical peel is based on the action of alpha-hydroxy acids , such as glycolic acid, which act chemically by preventing the chemical bonds of the cells of the epidermis.
The natural one is linked to the mechanical action of granular ingredients that slightly abrade the superficial layer of the skin, renewing it.
Chemical peels are more aggressive than natural ones as they can remove even the deepest skin blemishes and signs of aging .
The  scrub is instead a superficial manual massage, not very aggressive, more easily performed, even at home, both with special products purchased at shops and herbalists, and with those to be prepared by yourself with natural ingredients.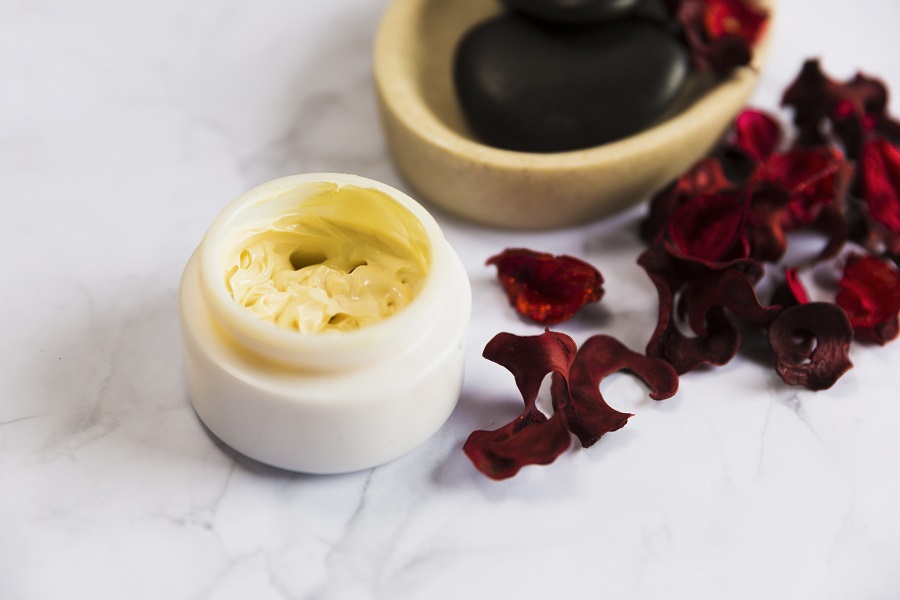 Everything you need to know at the pratiuco level to get a perfect scrub.
You have to choose the right product for your different needs and that respects your skin type, so as not to risk aggression and cause problems such as itching or dryness of the skin.
Better not to use the same exfoliant for all parts of the body.
Body, face, legs, lips all have a different structure, thickness, sensitivity and hydrolipidic film. The scrubs must therefore be suitable for the specificities of each area of ​​the body.
The type of skin is also an important factor in choosing the composition of the scrub.
Dry

 or delicate skin, which tends to crumble easily or redden , choose a mildly aggressive exfoliant, which contains moisturizing agents and small grains.

Oily skin ,  focus on ingredients that do not remove the hydrolipidic film to make them produce even more sebum, but which still has an effective astringent action on the pores.

Rough skin , on elbows and knees, better a product with larger granules, to remove dead cells quickly and effectively.
The texture also has its importance. You must find it pleasant to lay on your body. The scrub should also be a moment of pleasure and relaxation.
Better to exfoliate in the evening rather than in the morning. In fact, at night the skin is even more receptive to the stimulation of cell renewal triggered by the treatment.
At night, the skin is also less exposed to stress and external pollutants and is not in danger of being suffocated by makeup that clogs the pores.
We come to the steps to follow for a perfect scrub:
performed only on damp skin , both before and after cleansing, in order not to have an abrasive effect. The product will be easier to apply and the mechanical action will be facilitated.

distribute the product all over the body or face, avoiding sensitive areas such as the eye area, the private parts, where the skin is damaged.

perform a gentle circular massage to spread the product well and promote blood circulation. There are also effective scrubs to reduce cellulite problems. It is not necessary to rub the skin vigorously,

use some accessories to increase the effectiveness of the scrub such as a horsehair glove or a loofah -based sponge .

distribute the product all over the body or face, avoiding sensitive areas such as the eye area, private parts, where the skin is damaged.

rinse carefully with warm water to remove all the product.

do not do this in case of eczema or sunburn .

you can also do this on your hair , especially if it tends to be oily. It will make the scalp healthier and avoid dandruff or excessive sebum production.
How to make a natural scrub
To deeply cleanse the epidermis, the home scrub must use granular substances, such as sugar and fine or coarse salt, baking soda , coffee grounds , white flour , corn flour , cocoa and the like.
These products work by rubbing the epidermis and therefore eliminating impurities that can favor the production of blackheads , pimples and dead cells, which are the cause of dull and inelastic skin.
In addition to exfoliating substances, it is necessary to add an ingredient with moisturizing and nourishing properties such as a vegetable oil , for example sweet almond oil, jojoba oil, coconut butter (which melts above 20 °) or even the olive oil, all oils with moisturizing, emollient and anti-aging cosmetic properties: You can also opt for honey which is soothing and healing.
By combining the two types of substances, a creamy compound is obtained that spreads easily on the face (avoiding the mouth and eye areas) or on the body.
If you want to make the moment of the scrub a more complete sensory experience, add a few drops of essential oil to taste, or a few drops of lemon juice if you want to obtain an astringent effect on oily skin.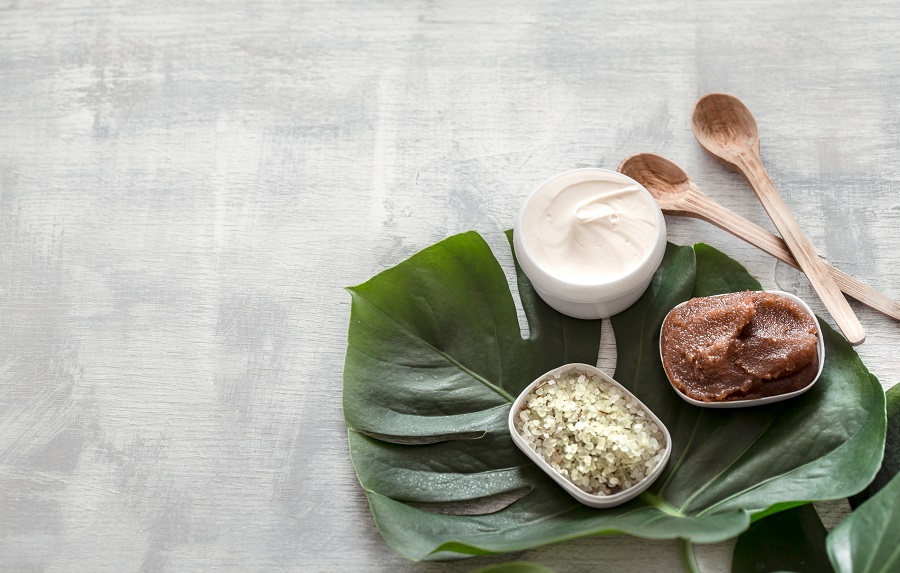 The recipes to exfoliate the skin naturally
There are numerous, easy and fast recipes to create natural cosmetics . The combinations to make an exfoliating cream are endless: bicarbonate and water, brown sugar and water, honey and brown sugar, sugar and olive oil, sugar, coffee grounds and natural yogurt …
We propose some of them, bearing in mind that the basic composition is always 80% of salt or sugar and 20% of vegetable oil, to be enriched as desired with other ingredients.
A gentle scrub can be performed weekly on the face and neck. It is performed on clean skin and must be adapted to the type of skin (dry, combination or oily).
Apply the product on the décolleté, neck and face, avoiding the eye and lip contour with a gentle, rather gentle circular massage. Then rinse with warm water and dry with a soft towel, then apply a mask or moisturizer to protect the skin.
You can apply a delicate product on the areas where the skin is dry, and a purifying one on the areas where the pores are dilated.
Sugar has a smoothing action, coconut oil a  protective and anti-aging action, while sunflower oil a moisturizing and softening action. You also need an airtight glass jar washed, dried and perhaps sterilized, as is done when preparing jars for jams. Use rose petals from your garden or that have not been treated with chemicals ,
You also need:
untreated rose petals

sunflower oil seed  oil

5 tablespoons of raw cane sugar

a few drops  of coconut oil
Preparation. With coconut oil softened in the microwave or on the stove, the first layer is created by filling the glass jar to one third of its capacity.
The second layer is made up of the rose petals. They must be carefully removed from the corolla, preferably picked early in the morning , washed and dried delicately, placed on top of the coconut oil layer and lightly crushed with a spoon.
Then cover the rose petals with a few tablespoons of brown sugar to cover the petals well. Now cover the sugar with the sunflower oil, which is poured almost to the edge of the jar. Close tightly and wait about 7 days, so that the rose essence permeates the sugar and coconut oil well.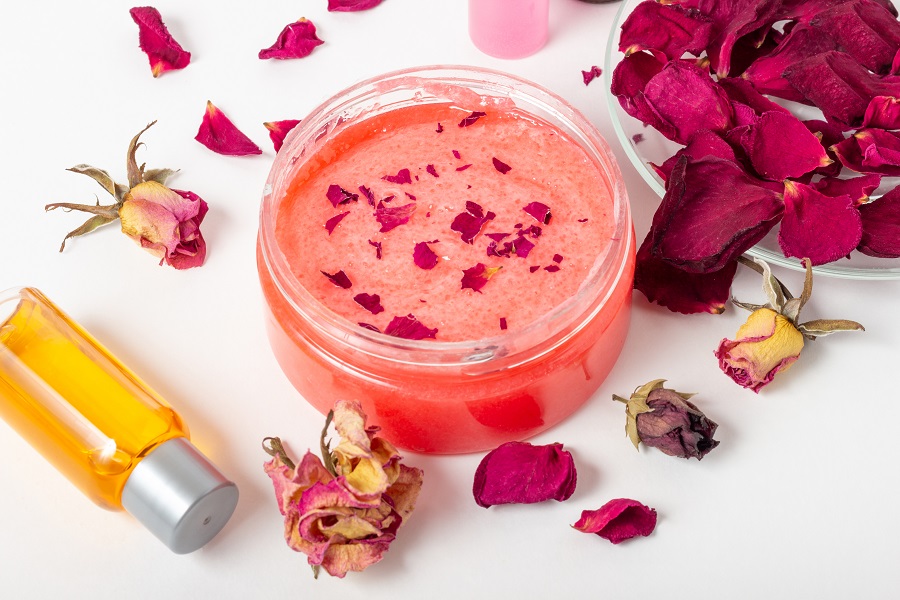 Regularly exfoliating the face, and also the body, contrary to popular belief, does not damage the skin and does not accelerate its aging. Instead, it brings numerous benefits to the epidermis:
refines the texture and texture  of the skin.

closes pores.

restores radiance to the complexion.

stimulates cell renewal  and  oxygenation  .

regenerates the tissues.

promotes the penetration of cosmetic active ingredients.

promotes an even tan that lasts longer.
To smooth the skin of the body it is enough to do an exfoliating treatment once a week, although some particularly delicate products can be applied every two days.
You do not have to be afraid of damaging or excessively stimulating the skin of the body, which will indeed be even more luminous and smooth, but avoid in case of injuries, burns, skin infections or sunburn.
Regular exfoliation regenerates the tissues and optimizes the penetration of the anti-aging active ingredients.
The only exception, be careful not to overdo the scrub if you have oily skin , because excessive exofliation will stimulate the secretion of sebum, already excessive, to restore the hydrolipidic film. So too many treatments will keep hyperseborrhea alive.
With dried lavender   and a few other natural ingredients it is possible to prepare an exfoliant for the body quickly and easily. Get a small airtight glass jar and these ingredients:
2 tablespoons of  dried lavender flowers

180 grams of  sugar

6 drops  of sunflower oil

12 drops of lavender essential oil

1 teaspoon of  ultramarine violet powder
Preparation. Grind the lavender flowers in the blender with 6 drops of the lavender essential oil . When the flowers are sufficiently pulverized, place them in a glass jar alternating a few tablespoons of powdered flowers with some of sugar, and stirring gradually.
In principle, add a few more tablespoons of sugar than lavender, mix well together inside the jar.
To give an even more purple color to the preparation, you can pour the sunflower oil and the violet ultramarine into a small glass container. Stir and also add more drops of lavender essential oil.
Add this colored oil to the preparation in the glass jar, taking care to cover all the lavender and sugar up to the edge.
Gently mix so that the oil blends with the sugar and the powdered flowers.
Close the jar hermetically and leave to rest for 3-4 days before using it. 
To have smooth skin like that of children, you can make yourself a scrub based on baking soda.
Attention, it is contraindicated for those with sensitive and delicate skin. Furthermore, it is good to do this treatment once a month, because it is still aggressive.
Here are two baking soda scrub recipes for the body: a gentler one and a more energetic one.
Baking soda scrub recipe
This exfoliant is suitable for the skin of the body, especially for the roughest and most callused areas, including the heels.
1 teaspoon of liquid honey
1 teaspoon of olive oil
1 teaspoon of baking soda
Preparation. Put all the ingredients in a bowl and mix well. Apply immediately to damp skin and rinse with warm water after 5 minutes.


Gentle baking soda scrub recipe
This exfoliant is perfect for the face, eliminates impurities and blackheads and is astringent.
½ tablespoon of baking soda
1 tablespoon of nourishing face cream
8 drops of lavender essential oil
Preparation. Put all the ingredients in a bowl and mix well. Apply immediately to damp skin and rinse with warm water after 5 minutes.
Emollient leg scrub with honey and flour and avocado oil
This recipe is suitable for those with dry skin, especially in the area of ​​the knees, ankles and elbows, here is what you need:
2 tablespoons of avocado seed oil

125 gr of corn flour

250 gr of honey
Preparation. Put the flour in a bowl and add, little by little, the avocado oil, stirring gently with a wooden spoon, then pour the honey into a bowl and microwave for ten minutes. Pour the mixture of flour and avocado oil into the honey and mix well.
It can be kept in the refrigerator. After a short foot bath in hot water, apply the mixture on the feet by massaging, leave it on for 10 to 15 minutes, then pass the pumice stone to remove dead cells.
Even our extremities, like every other part of the body, deserve some attention, especially in summer, when they can be left in the open air and no longer closed in shoes.
Let's see some easy-to-make recipes, which use only natural ingredients.
To exfoliate and remove dead skin cells from your heels, you need the following ingredients:
3 lime

5 drops of lime essential oil

2 tablespoons of granulated sugar

1 tablespoon of sweet almond oil
Preparation. Cut the limes into pieces and put them in a blender  to blend them, then add the sugar, lime essential oil and almond oil and mix well. Use a nut and massage your feet for a few minutes, then remove with warm water and finish the treatment by applying a moisturizer. It can be stored in the refrigerator in an airtight container for at least 1 week.
Recommended for regenerating and refreshing your feet after a long day of work, especially if you have spent many hours without sitting down. You need:
6 tablespoons of ground coffee

4 tablespoons of sea salt

4 tablespoons of corn flour

5 teaspoons of jojoba oil or sweet almond oil or sesame oil

2 drops of peppermint essential oil

2 drops of lavender essential oil .
Preparation . In a large bowl pour the ground coffee, sea salt and flour. Then, stir until there are no more lumps left.
Add jojoba oil, or your chosen alternatives, and essential oils . Mix well again to form a creamy and soft dough. It is used by performing circular massages until the sensation of relief is reached, then rinsed with warm water. This scrub can also be stored in the refrigerator for 1 week.
You can find some basic products to make an exfoliant at home also online:
What's your reaction?
0
Smile
0
Lol
0
Wow
0
Love
0
Sad
0
Angry