Although dumplings are a delicious delicacy, eating regular baked or boiled dumplings can be quite boring. Therefore, we present to you a recipe for preparing a delicious dish with dumplings. However, homemade dumplings are tastier and healthier than store-bought ones, so prepare yourself by making them.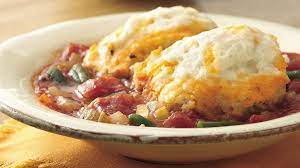 This dish can be prepared at any time, whether on ordinary days or on festive days.
Ingredients:
500 g dumplings
400 g of mushrooms
250 g of sour cream
1 tablespoon vegetable oil
1 medium onion
100 g of cheese
salt and pepper to taste
a little green anise
How to do it:
Finely chop the onion and thinly slice the mushroom. Put the onion in a heated frying pan, fry it until it turns red, put the mushrooms on top, and fry it on high heat so that the juice evaporates easily.
Add salt, pepper and other spices to onions and mushrooms and let cool.
Grease the baking pan with oil and place a row of dumplings on top.
Place onions with mushrooms on top of the dumplings, add sour cream and bake in an oven heated to 180 degrees for half an hour.
In the meantime, grate the cheese, take out the dumplings, sprinkle them on top and fry for another 5-10 minutes. Garnish the finished dish with green aniseed.
2. Spinach, tomato and dumpling soup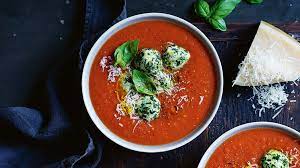 Our ancestors always taught us to eat soupy food to support our immune system, to be healthy and energetic. Then you will want to make this dumpling soup once and eat it again.
Ingredients:
2 cloves of garlic
250 g dumplings
1 tablespoon of olive oil
½ teaspoon dried oregano
½ onion
1 liter of chicken soup
450 g pickled tomatoes
salt and pepper to taste
700 g of spinach
parmesan cheese to taste
How to do it:
Heat the oil in a pan, add the sliced ​​onions and fry for 2-3 minutes, then add the garlic. Fry for another 2-3 minutes.
When the onion is soft and the garlic is golden brown, add the oregano and the broth.
Put the tomatoes in the frying pan and cook for 7-10 minutes, then put it in the soup pot and boil.
After the soup boils, make the dumplings.
Before the food is ready, add the spinach and remove the soup from the heat to taste.
Pour Parmesan cheese on top after serving
When making fried dumplings, first cook them for at least 5 minutes. Then, to make this fried dumpling, it is not necessary to cook the dumpling in advance.
Ingredients:
350 g dumplings
vegetable oil
salt and pepper to taste
380 g of butter
3-5 small cucumbers
2 cloves of garlic
cinnamon and green anise
How to do it:
Let's start by preparing sauce. Grate the cucumbers on a small grater and put them in a separate bowl.
Chop garlic, green anise, and cinnamon, mix with vegetable oil and chop in a blender. Then put the cream on top and stir again. Add salt if necessary.
Place the dumplings in a row on the heated pan and fry them on both sides until golden brown. Then fry the dumplings until they are ready, and the crispy dumplings will be ready.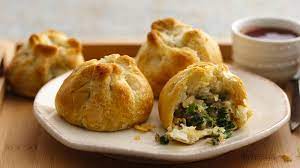 With this recipe, you can cook delicious food in no time.
Ingredients:
dumpling
onions
carrots
tomato paste
salt and pepper to taste
water
vegetable oil
How to do it:
On a heated pan, fry the onion and grated carrot until golden.
Add a little boiled water, tomato paste, salt and pepper to the carrots and onions.
Add the dumplings to the prepared sauce and bake for 15-20 minutes.
5. Soup with spices, dumplings and tomatoes
A delicious yet easy recipe for a cool evening with friends.
Ingredients:
dumpling
onions
tomatoes
tomato paste
hot pepper
sarims
green vegetables
How to do it:
Fry chopped onion and tomato in vegetable oil.
Mix the tomato paste with water in a pot, add your favorite spices and hot pepper and boil.
Put the dumplings in the boiling soup, when the dumplings float, add the fried onions and tomatoes and cook for 5-7 minutes.
Serve in bowls and garnish with finely chopped green onions.
What's your reaction?
0
Smile
0
Lol
0
Wow
0
Love
0
Sad
0
Angry