Every housewife wants to treat her family with delicious and quality food. Then, we present to you 6 delicious recipes that can be made with noodles to make this wish come true. It seems that the traditional noodle soup has already started to be removed from the menu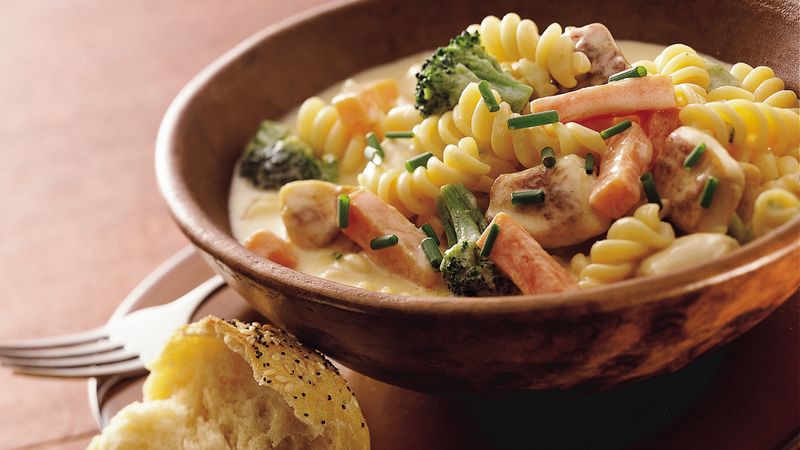 Here's an easy recipe for delicious fried noodles for lunch.
Ingredients:
500 gm goimon
500 gm cream cheese
200 gm of cheddar cheese
80 gm of gruyere
500 ml of 10% fat cream
4 tablespoons of unsalted butter
1 tablespoon of cayenne pepper
100 gm of breadcrumbs or dried bread crumbs
Salt to taste
How to do it:
1. Preheat the oven to 230 degrees.
2. Put the noodles in boiling hot water and cook until done.
3. Drain the pasta water and rinse the pasta with cold water, leaving ¾ of the pasta cooking water.
4. Heat the cream over medium heat, add the cayenne pepper, bring to a boil, and reduce the cream to 350 ml.
5. Add cream cheese on top and cook until melted.
6. Add the cheddar and gruyere cheeses to the prepared sauce.
7. Add pasta and pasta water to the prepared sauce, stir well, then add salt to taste and put it in the oven. In general, a 30×20 cm container is more suitable.
8. Melt the butter, mix it with dried breadcrumbs, spread it evenly over the pasta and bake in the oven for 10 minutes, until golden.
2. Pasta with green vegetables and cheese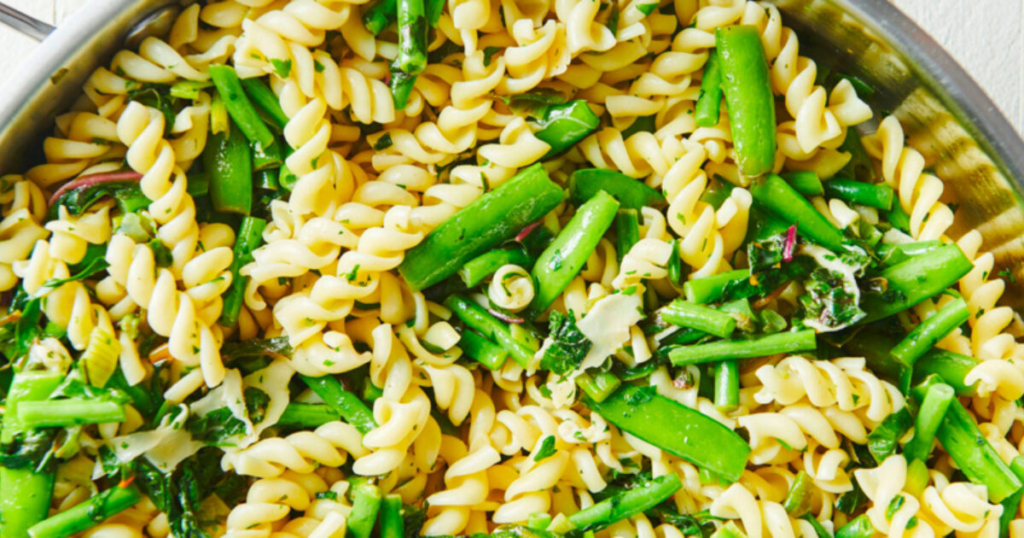 A unique and delicious dish that can be made on the weekend.
Ingredients:
500 gm goimon
4 tablespoons of olive oil
2 cloves of garlic
1 onion
150 gm of tablespoon baitsai
60 gm unsalted butter
50 gm of flour
1 tablespoon of mustard
600 ml of milk
1 tablespoon basil leaves
1 egg
300 gm of cheddar cheese
100 gm of Gruyere cheese
Salt and pepper to taste
50 gm of breadcrumbs or dried bread powder
How to do it:
1. Add 2 tablespoons of olive oil and finely chopped onion and garlic to a frying pan and fry the onion until translucent, about 5 minutes.
2. Chop the cauliflower, add it to the onions and garlic, season with salt and pepper and fry for another 5 minutes.
3. Preheat your oven to 350 degrees. Meanwhile, melt the butter, add the flour and cook over low heat for 5 minutes until creamy.
4. Add milk, mustard and basil leaves to the above sauce and boil for 10 minutes on medium heat until it thickens, then season with salt and pepper.
5. Remove the bay leaves, add eggs to the sauce and remove from heat.
6. Cool the sauce a little and add the grated cheese.
7. Boil the pasta and add it to the sauce and mix it with the cabbage and vegetables and put it in a 30×20 cm mold.
8. Mix 2 teaspoons of olive oil, dried breadcrumbs, salt and pepper in a small bowl and pour over the pasta. Then sprinkle with grated Gruyère cheese and bake in the oven for 30 minutes until golden
3. Pasta with colored cabbage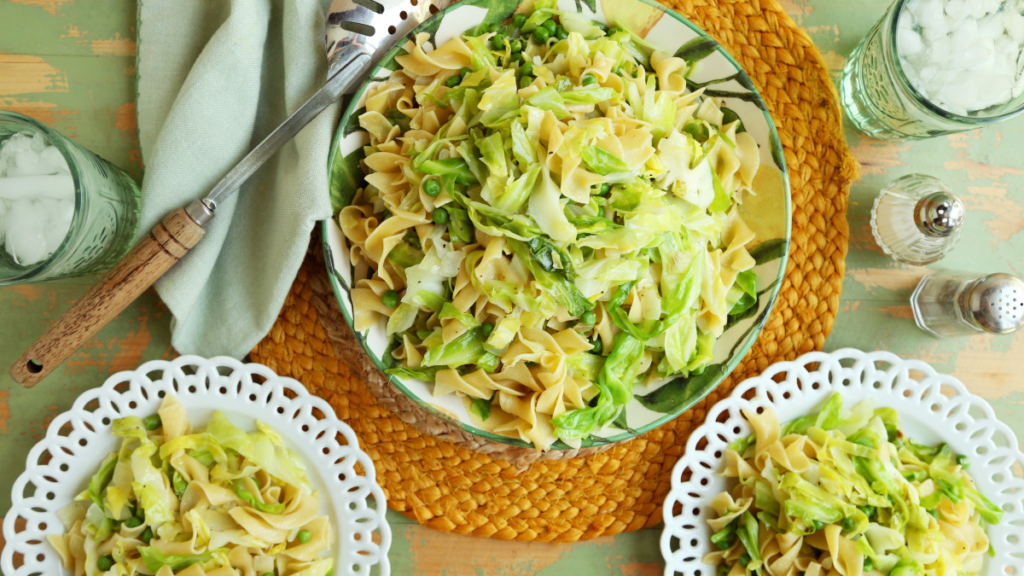 This is a great dish for vegetarians.
Ingredients:
500 gm of colored cabbage
500 gm goimon
70 ml of olive oil
1 teaspoon of rice vinegar
1 teaspoon of turmeric powder
1 teaspoon of dry mustard
½ teaspoon of salt
¼ teaspoon dried garlic
200 ml of soy milk
5 gm of yeast
pinch of ground nutmeg
Black pepper to taste
How to do it:
1. Preheat the oven to 170 degrees.
2. Boil the noodles in salted water.
3. Boil the cauliflower and blend it with milk, 60 ml of olive oil, vinegar, turmeric, mustard, salt, pepper, garlic and nuts.
4. Put the prepared sauce on the noodles and stir well.
5. Mix dried breadcrumbs, green seasoning, yeast and 10ml olive oil together and add to pasta.
6. Bake in the oven for 30-40 minutes until golden brown.
4. Pasta salad with eggs, bacon or bacon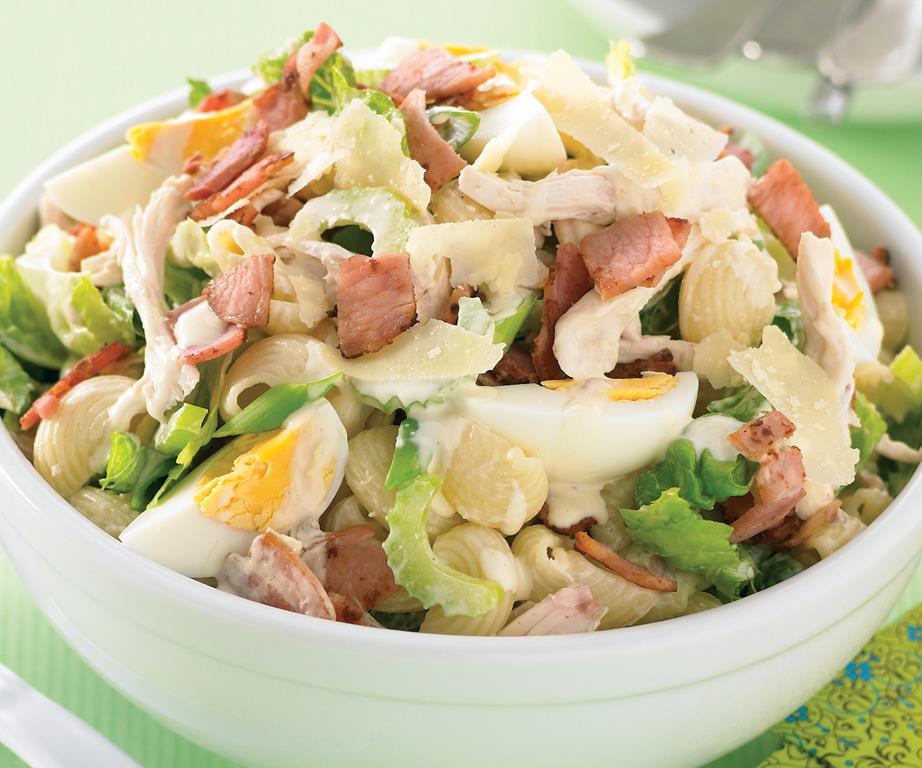 Let's give up the usual salads and make a pasta salad.
Ingredients:
6 eggs
500 gm goimon
500 gm of pork or bacon
50 gm of onion
1 clove of garlic
1 tablespoon of mustard
3 tablespoons of white wine vinegar
50 g of olive oil
½ teaspoon of spicy sauce
100 gm of sweet pepper
100 gm yanshui
Salt and pepper to taste
How to do it:
1. Heat the frying pan to 180 degrees.
2. Boil the eggs and cut them.
3. Cook the noodles in boiling water, and while the noodles are boiling, add 5 slices of pork. After the noodles are done, drain the water and take out the pork.
4. Put the raw pork in the oven and grill it for 15 minutes.
5. Put the grated onion, garlic and mustard vinegar in a pot and stir, then add the olive oil, salt, pepper and spicy sauce.
6. Mix the prepared sauce with eggs, sweet pepper, parsley, fried pork and noodles.
5. Hong Kong style noodle soup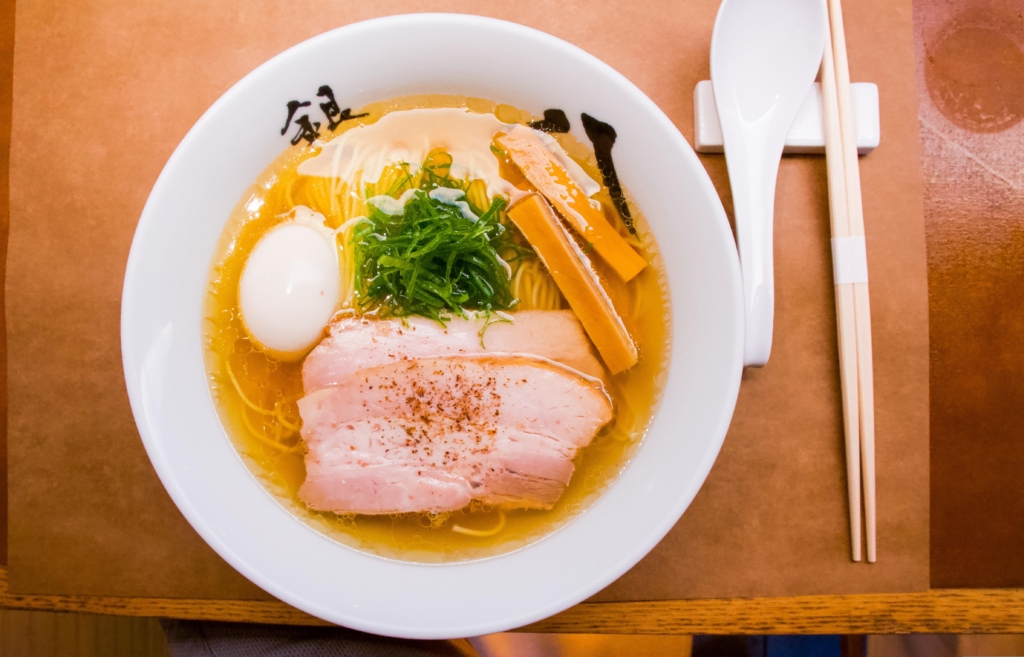 This noodle soup is a favorite of Hong Kong people, and it is delicious and easy to make.
Ingredients:
250 gm goimon
750 ml unsalted chicken broth
1 teaspoon of soy sauce
few slices of pork
1 egg
Vegetable oil
How to do it:
1. Boil chicken soup and soy sauce in a pot.
2. Put the noodles in the boiling soup.
3. Heat vegetable oil in a frying pan and grind and fry the eggs.
4. Put the egg and pork on the chicken noodle soup and the dish is ready.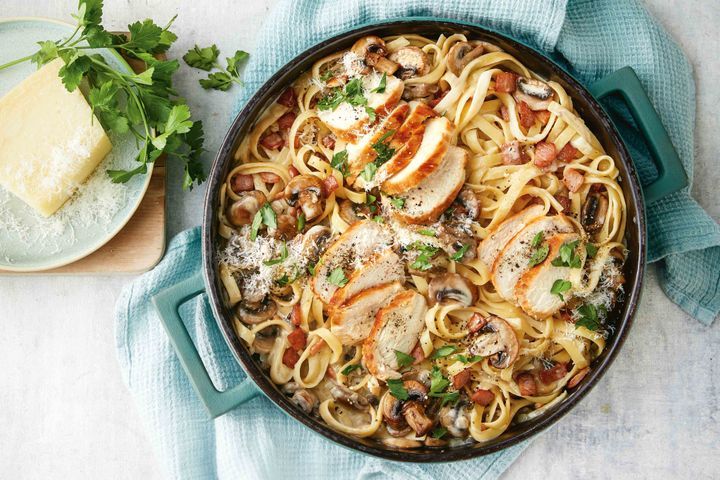 Italy's most famous carbonara can be prepared in just 30 minutes.
Ingredients:
400 g of fettuccine or wide pasta
250 g of chicken breast
4 slices of pork or bacon
3 cloves of garlic
4 eggs
70 gm of parmesan cheese
30 gm yangshui
Salt and pepper to taste
How to do it:
1. Cook the fettuccine pasta and reserve 100 ml of the pasta cooking water.
2. Fry pork or bacon in a large frying pan for 5 minutes, add chopped garlic and fry for another 2-3 minutes. Remove the bacon, leaving the fat side in the pan.
3. Cut the chicken lengthwise, season with salt and pepper and fry on low heat for 10 minutes. Fry the pork in frying oil.
4. Then reduce the heat of the chicken roasting and add the pork on top. Stir well and add the noodles and stir again.
5. In a small bowl, add eggs, grated cheese, chopped parsley, salt and pepper, stir and add to the pasta, then add 2-3 tablespoons of pasta-boiled water.
6. Garnish the carbonara with grated cheese and parsley.
What's your reaction?
0
Smile
0
Lol
0
Wow
0
Love
0
Sad
0
Angry